The french specialist of on-site gas production systems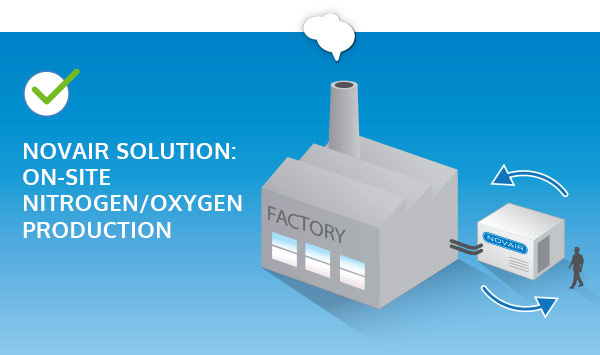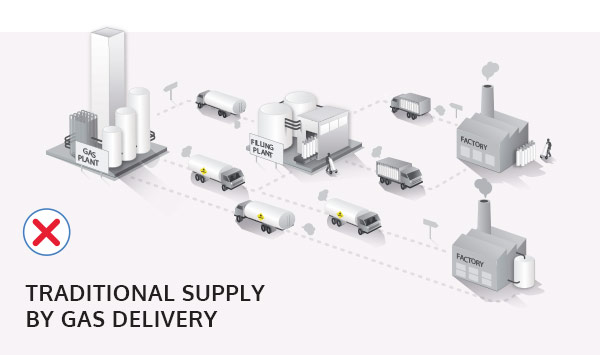 NOVAIR is a manufacturer of oxygen and nitrogen generators, networks, and distribution and monitoring of medical and industrial gases. With more than 45 years of presence on the market, NOVAIR's expertise is recognized internationally. We design and build complex and tailor-made systems adapted to the technical, economic, and environmental constraints of each of our clients.
Today, the group has several subsidiaries throughout France and Europe :
NOVAIR NOXERIOR GAS SYSTEMS : Italian branch specialized in the on-site production of nitrogen and oxygen by generator (modular PSA and membrane technologies) and is also recognized for its expertise in complex engineering projects.
NOVAIR Gaz Industriels France : Located near Paris, NOVAIR GIF offers all air, oxygen, or nitrogen on-site production solutions, for sale or rental.
NOVAIR USA / OGSI : American branch based in Buffalo, NY offers a choice of Made in USA oxygen generators for Industry and Healthcare.
Why choose NOVAIR on-site solutions ?
Adopt innovation
For the professionals who take the step of innovation, no more heavy bottles to handle, no more risks of explosion due to the storage of dangerous gas in large quantity, no more logistical constraints related to the gas deliveries and risks of stock-outs oxygen or nitrogen.
An eco-friendly solution
The environmental impact is also positive : no more truck rotations, source of polluting emissions.
Forget deliveries of high pressure cylinders or supply of liquefied gas : NOVAIR offers solutions to become your own oxygen and nitrogen supplier, from an unlimited, free and universal raw material : air.
| | |
| --- | --- |
| | Operating costs reduced : You produce nitrogen / oxygen you need and get rid of any external supply contracts and associated transportation or leasing costs. |
| | Increased security : No more storage of high pressure cylinders or cryogenic gas that is highly combustible (O2). |
| | No more supply chain failure : Your generator provides an unlimited quantity of on-site nitrogen or oxygen, on demand. |
| | No more logistical constraints : Save time avoiding recurrent logistics procedures – orders, deliveries, invoices, stock management. |
| | Reduction of environmental impact : No more of polluting trucks comings and goings. |